Intelligent Automation: The Key to Unlocking Competitive Advantage
This article explains to you the benefits and future of intelligent automation.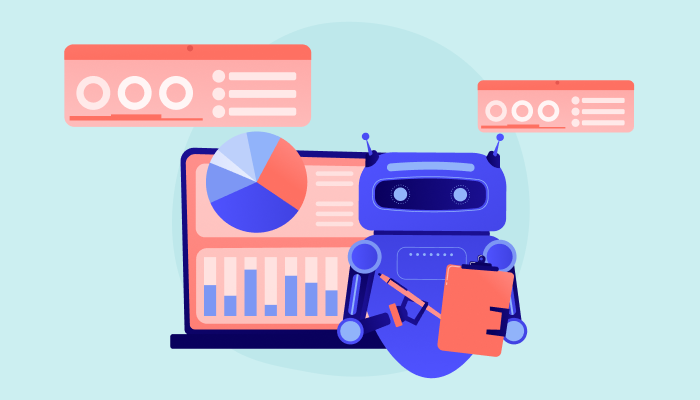 An intelligent automation system combines artificial intelligence (AI), robotic process automation (RPA), and business process management (BPM) technologies to automate low-level tasks within a business. You can also call it cognitive automation. The system helps create end-to-end business processes that can learn, think, and adapt by themselves. Intelligent automation helps scale and streamline decision-making processes across organizations. The system simplifies processes, frees resources, and improves operational efficiencies and applications to enhance businesses.
We will discuss the three cognitive technologies that comprise intelligent automation to empower technology and business transformation.
Artificial Intelligence (AI) AI is the most critical component of intelligent automation that uses complex algorithms and machine learning to analyze structured and unstructured data within businesses.

Business Process Management (BPM) BPM, also called business workflow automation, helps automate workflows to provide consistency and agility to business processes. The process streamlines and improves engagement and interactions between businesses and their clients.

Robotic Process Automation (RPA) RPA uses bots or software robots to do back-office tasks like filling out forms or extracting data. The bots combine with AI to help handle complex organizational tasks.
Benefits of Intelligent Automation
Intelligent automation enables businesses to automate complex work processes by using advanced technologies. The end-to-end digital automation frees team members from repetitive tasks related to core business processes.
We will discuss the benefits of intelligent automation in detail below.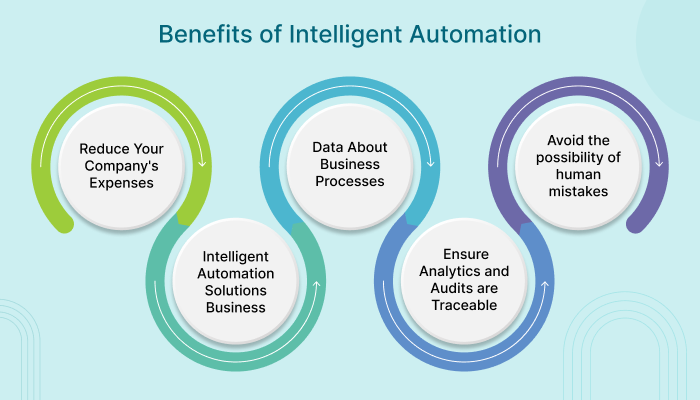 1. Reduce Your Company's Expenses
Having intelligent automation in place gives long-term cost reductions as your firm grows. According to KPMG research, automation has the potential to reduce expenses in the financial services sector by up to 75%. Furthermore, organizations might save 40% to 70% of their time spent on repetitive procedures each year. With your extra time, you may be able to reduce the size of your crew or take on additional clients.
2. Data About Business Processes
Significant data may get lost during translation when you perform business processes across multiple systems. Moreover, you do not have visibility into how the tasks get accomplished across platforms. An intelligent automation platform creates audit trails for all task systems and collects and organizes the data. The process automation allows businesses to uncover errors and discrepancies in the data and identify optimization opportunities.
3. Avoid the Possibility of Human Mistakes
When your staff executes the same tedious duties repeatedly, there is always the possibility of human error. People, after all, make mistakes. These mistakes, while unavoidable, may be extremely damaging to organizations. In fact, they are responsible for around 82 percent of manufacturing mistakes and 50-70 percent of electronic equipment failures.
Human mistakes, regardless of business, may be costly and time-consuming to fix. You will never have to deal with these errors again if you do not automate company procedures. Automation saves you and your clients time and resources, as well as removes the need for rework.
4. Intelligent Automation Solutions Integrate Business and Process Data to Provide New Insights
Business data displays the outcomes of your work; process data demonstrates how that work is completed. Sales numbers, inventory levels, conversion indicators, and so forth are examples of the former. The latter informs you that a certain user completed a specific activity, how long it took the user to complete that work, how many times the user completed that task on a given day, and other action-oriented statistics.
An intelligent AI platform combines all of this data into a single system. This type of data unification results in highly informative reporting, allowing managers to detect redundancies, perspective changes, and readily compare procedures to outcomes.
5. Ensure Analytics and Audits are Traceable
When you use intelligent automation at your company, you will always have a comprehensive and fully traceable path. You'll be able to track every procedure from beginning to end, which will enhance your analytics and aid in financial audits.
The Key to Unlocking Competitive Advantage
Intelligent automation technology has redefined the business world's landscape and helped multiple organizations achieve the ultimate progress mechanism to unlock competitive benefits. Here is how automation systems offer competitive benefits.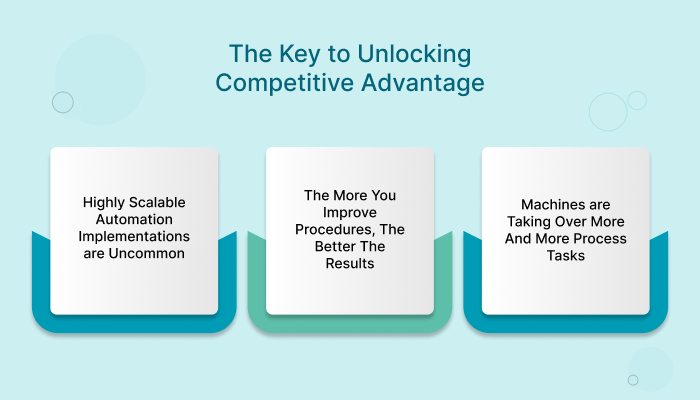 Machines are Taking Over More And More Process Tasks
The amount of labor performed by intelligent machines is constantly expanding, and many firms are using automation to glean meaning from a flood of process data.
Companies anticipate a 50 percent increase in the amount of sophisticated and regular judgments made by computers between 2021 and 2023. Therefore, organizations will delegate more process labor to robots as automation techniques include AI and other cognitive technologies.
The More You Improve Procedures, The Better The Results
Respondents who have enhanced more business processes using automation, AI, and analytics get better results than those who have augmented fewer processes. Higher performance categories include operational efficiency, decision making, risk reduction, and a better customer experience.
Highly Scalable Automation Implementations are Uncommon
Only 8% of companies say they have implemented automation on a large scale. Instead of integrating processes into a workflow, most firms introduce automation piecemeal, focusing on process pain points. This strategy will shift when businesses see the advantages of deploying increasingly powerful automation building sets across company operations and focus on assisting people in adapting to the new way of working.
Intelligent Automation in Action
Intelligent automation helps deliver the following business drivers - growth and resilience, operational efficiency, better employee and customer experience, and reduced costs. We will discuss the five advantage points of intelligent automation in detail below.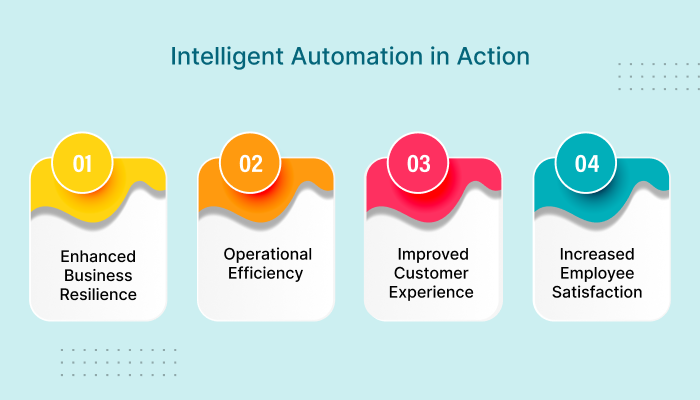 1. Enhanced Business Resilience
With a thorough automation plan, you can not only handle the current crisis but also better prepare for future challenges.
With a thorough automation plan, you can not only handle the current crisis but also better prepare for future challenges. Businesses are currently forced to use a primarily remote staff. As a result, having strong automation techniques in place can enable crucial business processes that would otherwise be impossible due to social-distancing constraints. In the logistics business, for example, robots keep warehouse employees and delivery staff at a safe distance while allowing for uninterrupted services.
The use of automation, however, does not cease with the epidemic. In fact, in order to weather the economic consequences of the epidemic, many businesses have grown more fiscally cautious. Automation investments are a tried-and-true technique for lowering costs and improving resilience.
2. Increase The Level Of Security, Compliance, And Secrecy
The capacity to exploit Big Data insights has resulted in a seismic shift in the way many businesses do business in the twenty-first century. With a well-planned and flexible, intelligent automation strategy in place, your organization's mission-critical data is better secured against threats and errors.
3. Operational Efficiency
Automation's improved efficiency and speedy time to value have always been promising aspects, but they are even more critical now because businesses are scrambling to resume operations and restore momentum following the pandemic's catastrophic impact. Even a simple automation solution has the potential to reduce processing expenses by 40 to 80 percent and processing time by 80 percent.
4. Improved Customer Experience
Internal efficiency translates to outward-facing benefits for clients and consumers when a firm incorporates RPA automation into its operations. Questions are handled more promptly and precisely, concerns are resolved more effortlessly, and the onboarding process is significantly simplified.
5. Increased Employee Satisfaction
With the advent of AI, the number of cases requiring manual intervention decreases, allowing human workers to spend less time monitoring automated processes and more time undertaking engaging, gratifying work.
Future of Intelligent Automation
Businesses across sectors have recognized the benefits of automation and are ready to move forward. Organizations may start constructing a real digital workforce capable of imitating many aspects of human intellect and judgment by adding artificial intelligence to automated operations. When this occurs, the basic promises of automation, faster procedures, fewer costs, decreased chance of mistakes, and freeing staff from the most monotonous tasks, can rise to a new level, yielding even larger bottom-line advantages.
Boost your Productivity with Inteligent Automation Sign Up 14 Day Trial
Summing it Up
Intelligent automation involves the integration of robotics with multiple superior technological components to enhance complex business processes. The process helps transform the organizational work processes in several industries from finance, HR, tax, customer care, regulatory compliance, etc. A software solution that is agile, scalable, and simple to adopt is essential for the transformative benefits of intelligent automation.
BotPath is an efficient robotic process automation software that helps automate repetitive tasks based on multiple rules. The software allows users to select customized templates or develop new ones to create and automate business workflows. The best part about the software is that it uses bots to extract data from multiple websites.
Why Botpath?
#1
Automated Repetitive Tasks
#2
End-to-End Bot Development
#3
Customized Bot Builder
#4
Unlimited Automated Workflows Management
#5
Automated Data Extraction
#6
Workflows Recording Management
#7
Rule-based Process Automation
#8
Seamless Data Management
#9
Unbelievable pricing - the lowest you will ever find
#10
Everything your business needs - 50 apps, 24/5 support and 99.95% uptime
Join the SaaS Revolution
All-in-One Suite of 50 apps

Unbelievable pricing - $14.99/user

24/5 Chat, Phone and Email Support